K-Force® 36" TIR LED Light Bar SKU: F-KT36
U.S. Patent No. D703,082
3-Watt MaxGen® LEDs
Customize this Light Bar
Click for larger image and other views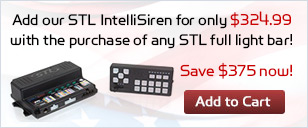 Product Rating
Product Specifications
Download Instruction Manual
About The K-Force 36" TIR LED Light Bar
The K-Force 36" TIR LED Full Size Light Bar by SpeedTech Lights is built with your needs in mind. SpeedTech understands that durability and functionality are top priority, and these considerations were used when these LED lights were designed.
Quality is unmatched, and it is easy to see why the K-Force® lights are long-lasting. The LED light bar features 70 powerful 3-watt MaxGen
®
LEDs with a lifespan as long as 100,000 hours, so you don't have to worry about having your equipment fail at the wrong time.
The alloy board is built with double layered aluminum, and the weather-proof housing will keep your lights protected in all conditions. Unique features include the optional functionality to use multi colors for traffic advising, as well as 39 flash patterns for you to choose from.
The long power and auxiliary cables make installation easy for you to use the 36" light bar in a variety of situations. Additionally, this light bar comes with gutter brackets to make it easy for you to install the product in a variety of applications.
Features:
5 Year Warranty*
Powered by 12V
Patent Pending LED Eclipse® Optic Technology - TIR Optics
70 total 3-watt MaxGen® LEDs
39 available flash patterns
LED take-down and alley lights
Built in amber arrow stick
Optional multicolor traffic advisor functionality available for purchase
Arrow stick directions: right, left, center out
Non-volatile memory recalls last flash pattern
Lifespan of up to 100,000 hours
Optional Supreme II Control Box available for purchase
Includes 13 feet of cable to switch box, 8 feet of power cable, and 8 feet of auxiliary cable
Multiple vehicle specific gutter bracket options available for purchase
Dimensions: 36.75" L x 2.25" H x 12" D
7 day money back guarantee*
*See Terms and Conditions