K-Force

®

Micro 60" TIR LED Light Bar
SKU: F-KFMT60
SAE Certification No. 170680
RoHS Certification No. ENC171106GZ19
U.S. Patent No. D795114, D797360
Customize this Light Bar
Click for larger image and other views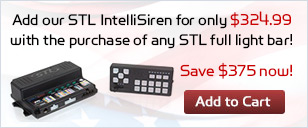 Product Rating
About The K-Force Micro 60" TIR LED Light Bar
With its compact 5" width, the K-Force Micro 60" TIR LED Full Size Light Bar is the perfect application for towing rigs, construction vehicles, pilot cars, and any other customer looking for a low footprint full light bar. Half the size with all the power, this 60" space saving design is as unique as it is powerful.
Powered by 102 intensely bright 3-watt MaxGen
®
CREE LEDs the Micro 60" TIR emits a 306 Watt, 360 degree flash. With a 3-way arrow stick capable of right-left, left-right, and center-out directional flash, the K-Force Micro 60" TIR has everything you need to be seen when you need it most. Whether you work on the side of the road, direct traffic, or rely on your light bar for worklights, this 60" Full Sized light bar is designed with your safety in mind.
The K-Force Micro 60" TIR LED Light Bar also includes a 5 Year Warranty, universal gutter mount brackets, adjustable foot brackets, 13 feet of cable, and an optional Supreme Control switch box available for a low price you'll only find at SpeedTech Lights.
Features:
Powered by 12V
CREE LED Technology
Patented LED Eclipse® Optic Technology - TIR Optics
102 total 3-watt MaxGen

®

CREE LEDs
39 available flash patterns
LED take-down and alley lights
Built in amber arrow stick
Optional multicolor traffic advisor functionality available for purchase
Arrow stick directions: right, left, center out
Non-volatile memory recalls last flash pattern
Lifespan of up to 100,000 hours
Optional Supreme II Control Box available for purchase
Includes 13 feet of cable to switch box, 8 feet of power cable, and 8 feet of auxiliary cable
Multiple vehicle specific gutter bracket options available for purchase
Dimensions: 59" L x 2.25" H x 5.5" D
Max 17.5 Amp draw
7 day money back guarantee*
30 day return policy*
*See Terms and Conditions
Flash Pattern Video
Informative Video