K-Force® 71" Linear LED Light Bar SKU: F-KL71
U.S. Patent No. D703,082
3-Watt MaxGen® LEDs
Customize this Light Bar
Click for larger image and other views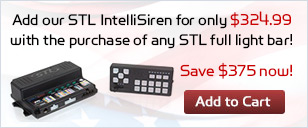 Product Rating
Product Specifications
Download Instruction Manual
About The K-Force 71" Linear LED Light Bar
The K-Force 71" Linear Full Size LED Light Bar is the longest emergency vehicle light bar we carry here at SpeedTech Lights. Perfect for large vehicle applications such as fire truck lighting, ems lighting, large contruction vehicle lighting and any other large vehicle purpose, this light bar is the perfect application to suit your needs.
There are no other companies in the industry that can offer you a full size LED light bar with 194 total 3-watt LED modules and built in take downs, alleys and traffic advising functionality at the price that SpeedTech can offer. All of this back by our 5 year warranty makes shopping with us a no brainer.
The most important thing at STL is our customer's safety, so we know when we build our products we absolutely have to provide the highest quality and reliable product we can to ensure when you purchase from us, you are also purchasing peace of mind that you are getting one of the best emergency vehicle warning lights on the market.
Features:
5 Year Warranty*
Powered by 12V
Patent Pending LED Eclipse® Optic Technology - Linear Optics
194 total 3-watt MaxGen® LEDs
39 available flash patterns
LED take-down and alley lights
Built in amber arrow stick
Optional multicolor traffic advisor functionality available for purchase
Arrow stick directions: right, left, center out
Non-volatile memory recalls last flash pattern
Lifespan of up to 100,000 hours
Optional Supreme II Control Box available for purchase
Includes 13 feet of cable to switch box, 8 feet of power cable, and 8 feet of auxiliary cable
Multiple vehicle specific gutter bracket options available for purchase
Dimensions: 71" L x 2.25" H x 12" D
7 day money back guarantee*
*See Terms and Conditions