K-Force® 36" Linear LED Light Bar SKU: F-KL36
U.S. Patent No. D703,082
3-Watt MaxGen® LEDs
Customize this Light Bar
Click for larger image and other views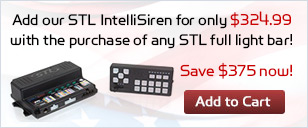 Product Rating
Product Specifications
Download Instruction Manual
About The K-Force 36" Linear LED Light Bar
The K-Force 36" Linear LED Full Size Light Bar fulfills any requirement. At SpeedTech Lights, we understand the importance of high quality performance and minimal budget impact.
This SpeedTech Lights product features 98 powerful 3-watt MaxGen
®
LEDs with 15 available flash patterns. Including many standard features such as alley and take down lights, cruise mode, and built in amber traffic advisor, this unit also has the option to add multicolor functionality to the traffic advisor enabling maximum warning visibility.
Backed by the longest warranty in the industry, the 36" Linear LED Light Bar is built to last. The weather-proof double layer aluminum alloy housing is rugged and durable. Installation is a breeze with only a two cable positive/negative hook up when paired with the optional Supreme II Control box and included mounting brackets.
Features:
5 Year Warranty*
Powered by 12V
Patent Pending LED Eclipse® Optic Technology - Linear Optics
98 total 3-watt MaxGen® LEDs
39 available flash patterns
LED take-down and alley lights
Built in amber arrow stick
Optional multicolor traffic advisor functionality available for purchase
Arrow stick directions: right, left, center out
Non-volatile memory recalls last flash pattern
Lifespan of up to 100,000 hours
Optional Supreme II Control Box available for purchase
Includes 13 feet of cable to switch box, 8 feet of power cable, and 8 feet of auxiliary cable
Multiple vehicle specific gutter bracket options available for purchase
Dimensions: 36.75" L x 2.25" H x 12" D
7 day money back guarantee*
*See Terms and Conditions